UI/UX Workshop: A User-Centric Approach to Information Architecture
PIXEL
10 Central Exchange Green Singapore 138649 (Seminar Room, Level 2)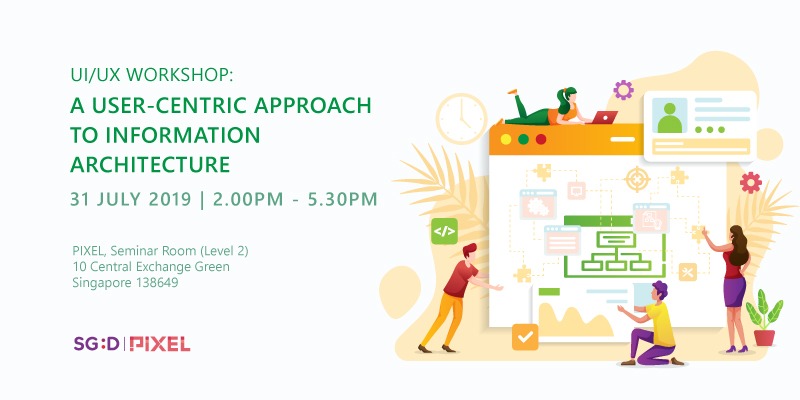 How is information on your site, platform, or digital products organised today? Keen on learning the art and science behind organising them to support usability and findability? Join us at this event to learn design principles for Information Architecture, that empower companies to present the best user experience across their digital platforms.
Information Architecture is the practice of organising content so that users can easily adjust to the functionality of the product, and could find everything they need without much effort. Information Architecture forms the skeleton of any design project, and visual elements, functionality, interaction, and navigation are then built according to the Information Architecture principles. 
Even compelling content elements and powerful UI design can fail without Appropriate Information Architecture. Unorganised content makes navigation difficult and inexplicit, and users can easily get lost and feel annoyed. If the users face a first bad interaction, they may not give the second chance to your product. Good Information Architecture is a foundation of efficient user experience. 
Information Architecture is a task often shared by designers, developers, and content strategists – and is an essential skill for anyone in a company overseeing the design aspects of the product, platform or site. Information Architecture results in the creation of site maps, hierarchies, categorizations, navigation, and metadata. When a content strategist begins separating content and dividing it into categories, he/she is practicing information architecture. When a designer sketches a top level menu to help users understand where they are on a site, he/she is also practicing information architecture. 
Join us at this workshop if you're in a team working on digital UI/UX in a Tech or Media company, developing enterprise products, consumer platforms, or your site listing key product information.
 This workshop will present fundamental principles that apply both for complex and simple IA structures. Case studies will be shared alongside practical exercises, to help participants get a better understanding of the topic.  
Programme:
1.45pm – 2:00pm            Registration
2:00pm – 2:30pm            Opening Introduction
2.30pm – 3.30pm            User Research, Content Hierarchy, and Findability. 
3.30pm – 4.00pm            Content Mapping and Content Audit
4.00pm – 4.15pm            Tea Break
4.15pm – 5.30pm            Content Categorisation and Labelling 
This workshop is organised by PIXEL, and facilitated by Chemistry
About Chemistry
As a full service, human centric and multi-disciplinary design studio, Chemistry brings a wealth of experience in both creative design skills as well as a rich expertise in translating complex and diverse end customer needs into seamless and easy to use design solutions. 
UI/UX Workshop: A User-Centric Approach to Information Architecture
Event Venue