Innovation Thursday #8
PIXEL
10 Central Exchange Green, Singapore 138649
Are you an innovator or company with digital technology capabilities? Keen to access real business needs and co-create with potential customers? 
 
Join us for our Innovation Thursday event happening on 24th January 2019 at PIXEL. This regular series of events held at IMDA's PIXEL will bring together tech innovators and companies, to discover new opportunities and connect with potential partners. 
At this event, you'll get to learn about IMDA's Open Innovation Platform - a virtual crowdsourcing platform that matches challenges of Problem Owners to Problem Solvers. Come meet our Problem Owners – NTUC Link, Stroztech and The New Gen Infotech

!



Hear directly from the Problem Owners about their challenges, what they are looking for, and what opportunities they offer to collaborate with potential solvers. 
_________________________________________________________________________
Programme: 
3:00pm - 3:30pm: Registration
3:30pm - 4:00pm: Introduction to Open Innovation Platform (OIP)
4:00pm - 5:30pm: Fireside Chat on Challenges 
5:30pm - 6:00pm: Networking and Refreshments
---
NTUC LINK
Speaker:
Sisir Mohapatra
Designation:
Head, Digital Product Platforms & Ecosystems 
Short profile of the speaker:
Sisir Mohapatra leads the digital product platforms and ecosystems group at NTUC Link and is responsible for managing both consumer and merchant product platforms. 
As a product management leader who is passionate about understanding customer needs, he specializes in growing and scaling product organizations, executing product strategy and digital transformation, and delivering large scale products with data analytics as a core value proposition.  
With over 19 years of experience across various business organizations, Sisir has also held both local and regional roles in a wide range of industries. Prior to joining Link, he worked in the large government sector at the CPF Board, at financial institutions such as NETS and at pharmaceutical giant AstraZeneca. 
About NTUC Link:
Incorporated in 1998, NTUC Link aims to improve lives by stretching the dollar on everyday expenses through Plus!, one of Singapore's largest and most successful multi-partners loyalty programme. The Plus! Rewards Programme has more than 2.2 million members with the number of daily transactions hitting between 0.5-0.6 million. It has over 1,200 participating partner outlets featuring innovative marketing activities such as instant redemption, online rewards, promotions, gifts, vouchers and discount codes. Members can also enjoy rewards when using the Plus! VISA payment card at millions of VISA locations worldwide.
---
 Stroztech Pte Ltd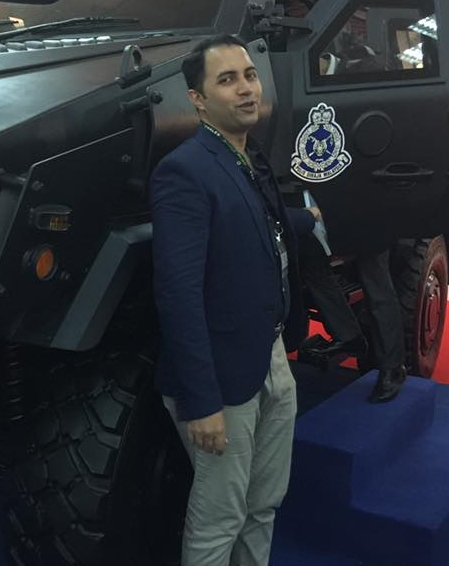 Speaker
: Mohammed Muneer 
Designation
: Principal Consultant 
Short profile of the speaker:
Seasoned project manager with more than a decade in corporate leadership. Held key positions in various trade associations within Singapore and regionally. 
About Stroztech:
Stroztech is a system integration and technology solution provider with a focus on security technology and solutions. Based in Singapore with offices in the region. Key clients would be IATA (International Aviation Transport Association), IBM etc.
---
The New Gen Infotech Private Limited, Singapore
Speaker 1: 
Michael Frank Hartung
Designation:
Business Director 
Short Profile of the Speaker:
Business Director, with more than 18 years' experience in Financial Service Industry, worked for top-tier banks covering Internal Audit, Business & Risk and Finance from Asia and Europe.
--------------------------------------------- 
Speaker 2:
Nagarajan Ramamurthi
Designation:
Chief Executive Officer 
Short Profile of Speaker:
Chief Executive Officer, with more than than 20 years' experience in Financial Service Industry, worked for top-tier banks covering Asset, Retail, Investment, Wealth Management, Credit Risk and Compliance domains from Asia and Americas. He is a leading Industry practitioner on digital transformations includes Data Analytics, Artificial Intelligence, Blockchain. He has trained and developed skill force to prepare the industry for the technological revolution.
--------------------------------------------- 
About The New Gen Infotech PTE LTD:
The New Gen Infotech Private Limited, a FinTech Company, was founded in 2013 in Singapore.
Finance Monthly Global Award for the following:

Section Winner Fintech Adviser of the year, Singapore
SaaS Adviser Firm of the year, Singapore

Developed Product - Smart Product Analyzer
Experts on providing solution support on Digital Transformation - Artificial Intelligence, Machine Learning, IoT
Industry Experience –

Banking - Retail Banking, Investment Banking, Wealth Management, Credit Risk, Compliance, Risk and Audit
Insurance – Life, Medical
---
Innovation Thursday #8
Event Venue